The pumpkin – Free Halloween crochet video tutorial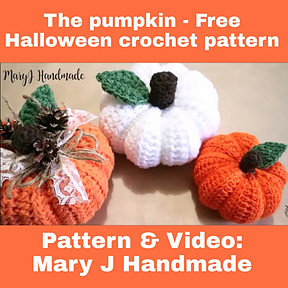 Pumpkins are very popular. They are ripe in the fall, just in time for Halloween. Pumpkins can be very colorful and make a fun accessory in and outside of your home. A lot of people carve it into a jack-o'-lantern.
It was the influence of Irish immigrants that made the pumpkin a part of Halloween. It was believed that fairy spirits lurked in the shadows. To distract these spirits from settling into houses and farms, people would carve scary faces into large turnips, and set candles inside.
With crochet pumpkins you can make attractive decorations that will last forever.
I have found a sweet and beginner-friendly free crochet pattern for a pumpkin. The tutorial is made by Mary J Handmade, an Italian pattern designer.
Materials you will need to make it are:
Your favorite yarn in orange color
Crochet hook to fit the size of the yarn
Yarn needle and scissors
Toy stuffing or yarn scraps
The size of the finished pumpkin depends on the thread you use.
Make a jack-o'-lantern.
You can sew a face with black yarn or use a black fabric on the pumpkin and make it into a jack-o'-lantern. This will make it even more exciting for the kids.
Video tutorial is here:
Have fun making the pumpkin. I would love to hear what you think about the pattern.
Have a nice day.
Katja
Sharing is caring. Please follow and like us: