As seen on TV – Ninja Turtles Crochet Patterns
Please note, some of the links in the text below are affiliate links, which means that if you decide to buy any of their products or services, I'll receive a small commission. It helps me to maintain my blog, support my family and allows me to continue to create free content. I only recommend products that I use and love. Thank you for your support. For more details click the disclosure
---
This is another article for the As seen on TV series. Today I want to show you Ninja Turtle Crochet Patterns. I am sure you will love them too. All amigurumi patterns were created by Ilknur Karaca from Prague, Czechia. She is the founder of the IremDesign Etsy Shop.
In the end, you will also find a pattern from my shop, Pretty Things By Katja, an inspirational blanket and pillow with Leonardo's quote.
But first, I want to share some fun facts with you.
April O'Neil: What are you?
Leonardo: We're ninjas.
Raphael: We're mutants!
Donatello: Technically, we're turtles.
Michelangelo: And we're teenagers. But we can have adult conversations.
April O'Neil: So, you're… Ninja Mutant Turtle Teenagers?
Donatello: When you put it like that, it sounds ridiculous!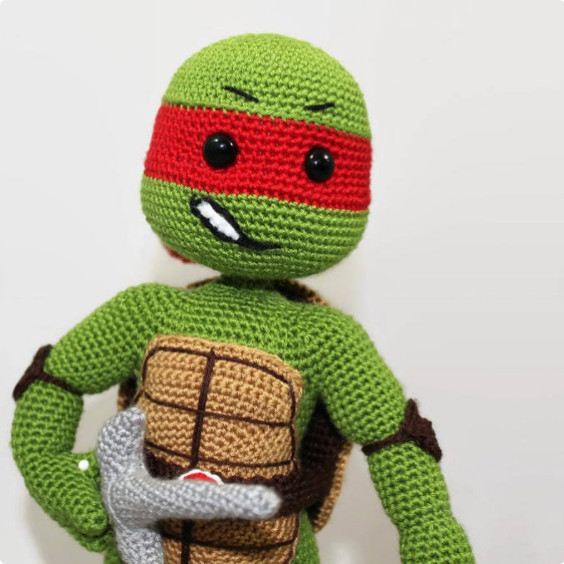 The Teenage Mutant Ninja Turtles (often shortened to the TMNT or Ninja Turtles) are four fictional teenaged superhero anthropomorphic turtles. Named after Italian Renaissance artists, they were trained by their anthropomorphic rat sensei in ninjutsu's Japanese martial art.
From their home in New York City sewers, they battle petty criminals, evil overlords, mutated creatures, and alien invaders while attempting to remain hidden from society.
Kevin Eastman and Peter Laird created them. The characters originated in comic books published by Mirage Studios and expanded into cartoon series, films, video games, toys, and other merchandise. During the peak of the franchise's popularity in the late 1980s and early 1990s, it gained worldwide success and fame.
The franchise generated merchandise sales of $175 million in 1988 and $350 million in 1989. By 1994, it was the most merchandisable franchise, having generated total revenue of $6 billion in merchandise sales up until then.
The Teenage Mutant Ninja Turtles first appeared in an American comic book published by Mirage Studios in 1984. The concept arose from a humorous drawing sketched out by Eastman. The young artists self-published a single-issue comic intended to parody four of the most popular comics of the early 1980s: Daredevil and New Mutants, Cerebus, and Ronin. The TMNT comic book series has been published in various incarnations by various comic book companies since 1984.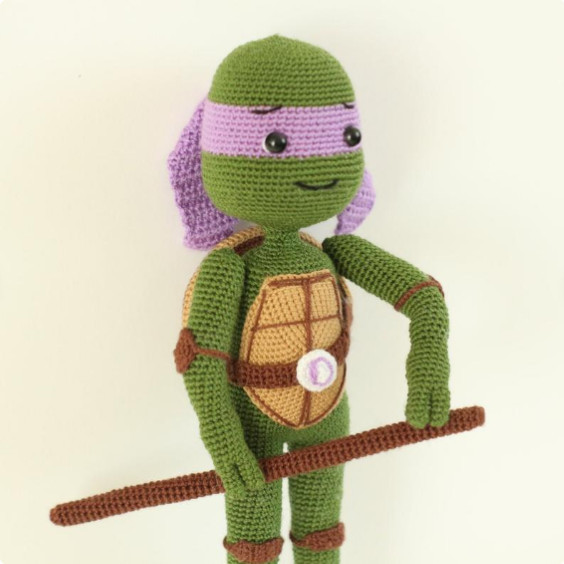 Television series
First animated series (1987–1996)
Here, the Turtles are portrayed as four funny but serious superheroes that fight evil forces from their sewer hideout. They love pizza and put weird toppings on it. They make their first appearance in masks color-coded to each turtle, where previously they had all worn red.
The turtles were also well known for their use of idiomatic expressions characteristic of the time's surfer slang, especially by Michelangelo. Words and phrases included "bummer", "dude", "bogus", "radical", "far-out", "tubuloso", "bodacious", and possibly the most recognized, "cowabunga".
The miniseries was repeated three times before it found an audience. Once the product started selling. The show then went network, on CBS. Accompanied by the popular Teenage Mutant Ninja Turtles 1987 TV series, and the subsequent action figure line, Teenage Mutant Ninja Turtles, became a mainstream success.
At the height of the frenzy, in the late 1980s and early 1990s, the Turtles' likenesses could be found on a wide range of children's merchandise, from Pez dispensers to skateboards, breakfast cereal, video games, school supplies, linens, towels, cameras, and toy shaving kits.
While the animated TV series, which lasted for 10 seasons until 1996, was more light-hearted, the comic-book series continued in a much darker and grittier tone.
After the end of the cartoon series, a live-action series in the films' vein was created in 1997. The series was called Ninja Turtles: The Next Mutation and introduced a fifth, female turtle named Venus de Milo. However, the series was largely unsuccessful and was canceled after one season.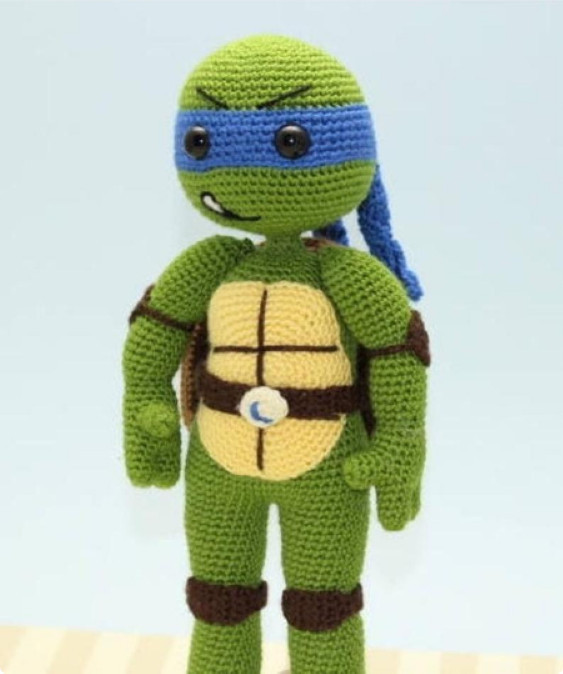 Second animated series (2003–2009)
The property lay dormant until 2003 when a new animated TV series, also entitled Teenage Mutant Ninja Turtles, began to air on Fox Box (4Kids TV). The series storyline stuck much closer to the original Mirage comic book series but was still less violent. It lasted for seven seasons and 156 episodes, ending in February 2009.
Third animated series (2012–2017)
In 2009, cable channel Nickelodeon had purchased all of Mirage's rights to the Teenage Mutant Ninja Turtles property. The 2012 version is characterized by anime-like iconography and emphasis on mutagen continuing to wreak havoc on the everyday lives of the Turtles and their enemies; in addition, this version's tone is similar to the original series but also features a handful of serious episodes as well. The series ran for five seasons.
Fourth animated series (2018–present)
A new TV series from Nickelodeon, Rise of the Teenage Mutant Ninja Turtles, was released in 2018 and is ongoing.
Nickelodeon made a new 2D animated series based on the franchise, which appeared in 2018. This version is characterized by lighter humor and also had some anime iconography.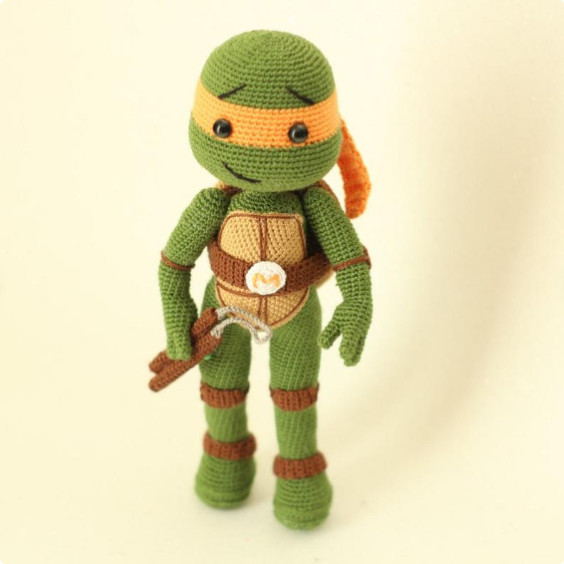 Feature films
The Turtles have appeared in six feature films. The first three are live-action features produced in the early 1990s. The fourth film, a CGI-animated film titled simply TMNT, was released in 2007.
A reboot, also titled Teenage Mutant Ninja Turtles, was released in 2014. A sequel titled Teenage Mutant Ninja Turtles: Out of the Shadows was released in 2016. A crossover film, called Batman vs. Teenage Mutant Ninja Turtles, was recently released in 2019.
Ok, enough of the fun facts. Now let's go to the crochet patterns.
You can pin this post for later here:
Leonardo, nickname Leo, is often depicted wearing a blue eye mask. His signature weapons are two ninjatōs (commonly confused as Katanas).
Leonardo is the eldest brother and the leader of the group. He is the most skilled, the most serious, the most spiritual, the most disciplined, and the most in-line with Splinter's teachings and thoughts.
Like all of the brothers, he is named after a Renaissance artist, Leonardo da Vinci.
Wise men say: Forgiveness is divine, but never pay full price for late pizza.
Raphael, nickname Raph, is usually depicted wearing a red eye mask; in this regard, he is the only turtle to retain the color in all media, whereas the others each received a different color.
Raphael wields twin sai, the points of which are usually sharpened, as his primary weapon. Raphael is most famous for his temperamental personality, being short-tempered, aggressive, sullen, maddened, and rebellious. He is portrayed in most interactions as speaking with a Brooklyn accent.
The origin of Raphael's anger is not always fully explored, but in some incarnations appears to stem partly from the realization that they are the only creatures of their kind and ultimately alone. He also has a somewhat rival relationship with his older brother Leonardo because he is seen as the group's leader. He is the second eldest of the turtles and second-in-command. Raphael gives Michelangelo a hard time because of Michelangelo's natural combat ability. At the same time, Raphael has to train a lot harder. Like all of the brothers, he is named after a Renaissance artist, the 16th-century Italian painter Raphael.
In 2011, Raphael placed 23rd on IGN's Top 100 Comic Book Heroes, a list that did not feature any of his brothers.
"We're not Kung Fu frogs. We're Ninja Turtles!"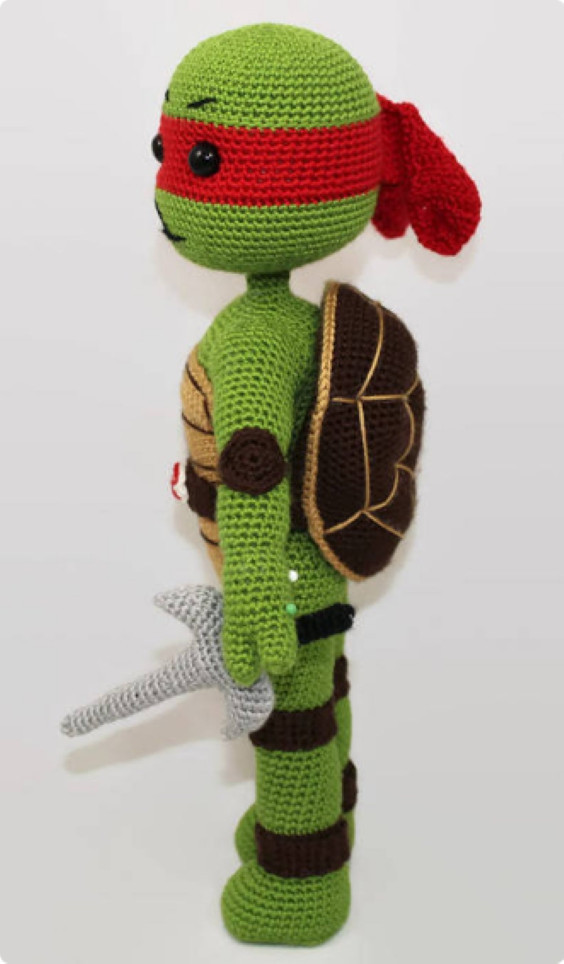 Michelangelo (originally Michaelangelo), nickname Mike or Mikey, is usually depicted wearing an orange eye mask. His signature weapons are dual nunchaku, though he has also been portrayed using other weapons.
Michaelangelo is the most naturally skilled of his four brothers but prefers having a good time than training.
More fun-loving than his brothers and the youngest of the group. Michelangelo is the most stereotypical teenager in the team. He is a free-spirited, relaxed, goofy, mischievous jokester known for his love of pizza and kind-hearted nature. He provides the comic relief, though he still has an adventurous side.
The least mature of the four Turtles shows characteristics of a "surfer" type and is often depicted with a Southern Californian accent.
Michelangelo was given a much more significant role in the 1987 cartoon series, directed at a younger audience than in the more serious original comic books aimed at an older audience.
He often coins most of their catchphrases, such as "Cowabunga!".
Like all of the brothers, he is named after a Renaissance artist, Michelangelo Buonarroti.
"Mikey here. I'm definitely the funnest of all my brothers. I love video games, skateboarding, pranking my brothers and duh, pizza!! Who does NOT like New York City Style Pizza? I mean, THEY'RE THE BEST!!! Speaking of pizza… I'm hungry."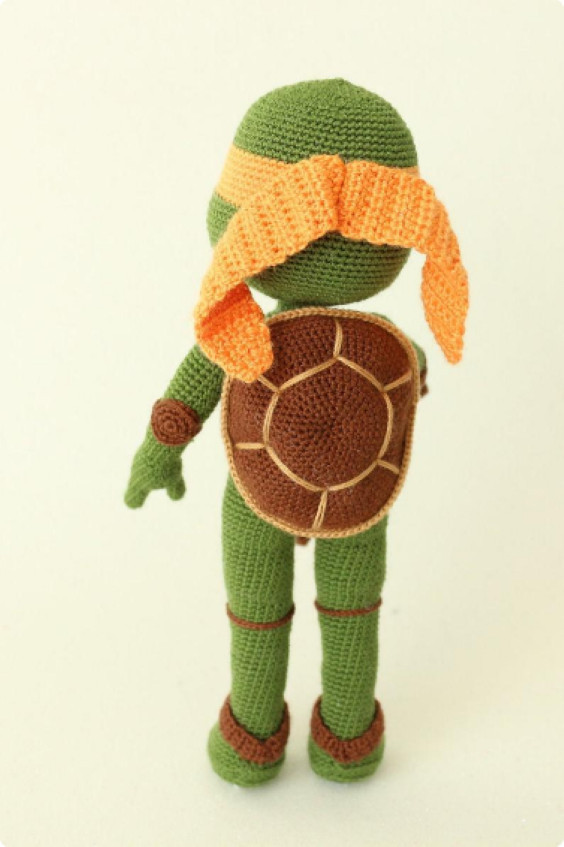 Donatello, nicknamed Don or Donnie, is usually depicted wearing a purple eye mask. His primary signature weapon are his effective bō staffs. In all media, he is the smartest of the four turtles. Donnie often speaks in technobabble with a natural aptitude for science and technology. Donatello is perhaps the least violent turtle, preferring to use his knowledge to solve conflicts, but never hesitates to defend his brothers.
For this Donnie ninja skills are the lowest of the four turtles. He is relying on gadgets over combat skills. He is the middle of the turtles and third-in-command.
Like all of the brothers, he is named after a Renaissance Italian sculptor Donatello.
"What? You know I love to dance! Not gonna apologize for that!"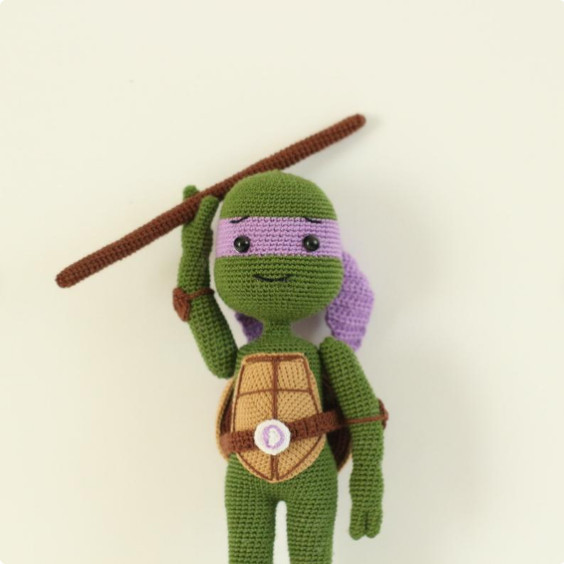 If you rather make a blanket or pillow, here is an inspirational quote pattern I made. I used Leonardo's quote that you know by now. It is a tapestry crochet blanket and pillow pattern (you get both). You can find it in my Etsy Shop, Pretty Things By Katja. Click on the link or photo below.
And to show you my gratitude for being my reader here is a 20% discount code for ALL my patterns: BESTOFCROCHET.

I hope you liked this article and the designs. Tell me, which Ninja Turtle is your favorite?
Have a beautiful day, and enjoy crocheting.
Katja
Sharing is caring. Please follow and like us: