How to crochet faster – The 8 efficiency tips
Please note, some of the links in the text below are affiliate links, which means that if you decide to buy any of their products or services, I'll receive a small commission. It helps me to maintain my blog, support my family and allows me to continue to create free content. I only recommend products that I use and love. Thank you for your support. For more details click the disclosure
---
If you are like me, you probably want to make gifts for your friends and family by your self. There are so many beautiful patterns, and when you see it, you know exactly who is going to love it.
Maybe you have some orders from your costumers, you want to make as fast as you can, or you just have so many ideas, and you want to make them all.
For me, all these three things are right. 🙂
I like to start new projects, and when I do, I can't wait fo finish it, because I already know what my next project will be.
Today I decided to share some of my tips to help me crochet faster. I hope they will help you, at least a little. And if everyone helps a little, then you will notice the difference.
Did you know that there is a world record, currently held by Lisa Gentry, who crocheted a total of 5,118 stitches in 30 minutes? Wow, that is fast!
Tip no. 1 – Use a good light
You can not crochet fast if you don't see your stitches. I recommend you use a white light that shines from above. It really makes a difference, especially if you are working with dark colors.
Did you know that there is a light made especially for crafters? OttLite Lights have some exciting options. You can buy the lamp that has three options – a floor lamp, a table lamp, or a screw-on lamp. I think those are some great possibilities. You can also buy the wheel base accessory (lockable wheel base), but if you do, don't secure the pole to the lamp base with the screws that came with the light, use the wheel base accessory screws (read the wheel base directions first). It has the clamp which you can use to hold patterns. Right now the Amazon has the best price.

Tip no. 2 – Take away distractions
I know you don't want to hear this because it is a lot more fun to crochet when you are watching your favorite TV show, but if you're going to crochet faster, you need to focus on what you are doing. Especially when you have a lot of counting to do.
Turn off the TV, leave your smart phone or tablet in another room, so you're not tempted to pick it up while you're working. But it does help to put on some upbeat music, or whatever it is that motivates you to get moving. You might even find yourself stitching to the rhythm of the music!
Make sure you have everything you need before you start. If you have to keep stopping to get more supplies, even if it's in the next room, it will slow you down.
There are things more important than finishing crochet projects quickly. There's not much you can do about those distractions, but you can take control of the not-so-important ones if you choose.
Tip no. 3 – Find a Good Seat
Crocheting faster starts with an excellent spot to sit as well as proper posture. If you want to crochet more quickly, find the most comfortable place for you.
In general, you'll want to avoid the floor or other hard surfaces that don't offer back support. Sit up straight and try not to hunch over your stitches; otherwise, you might end up with shoulder and back problems.
Also, I know how time flies when crocheting, you don't even know, and you have been crocheting for hours. I advise you to take a break every hour to stretch your back.
I use to have a glass of water by my side so that I didn't have to get up and drink, but now I don't do that, because it is better for me to walk and stretch a little.
Tip no. 4 – Stretch Wrists and Hands
You don't want to just stretch your back. Quick crocheting isn't just about how quickly you move. It's also about keeping your arms, wrists, and hands pain-free.
Before you sit down for a long crochet session, try to remember to do some hand exercise. The stretches will not only prevent pain, but they will also give your hands and wrists more flexibility, which in the long run, helps you stitch faster.
Tip no 5. – Use a Bulkier Yarn
This one might seem obvious, but if you're not finishing projects quickly enough, you might consider using a bulkier yarn. Crochet projects that use thread and lace-weight yarn can seem endless.

Fine yarns and crochet threads have both advantages and disadvantages. The benefits are numerous: using them tends to result in gorgeous, sophisticated finished projects.
One of the biggest disadvantages of using fine yarn and thread is that the projects grow slowly.
For quicker projects, try starting with patterns that specify thicker yarns – at least worsted weight yarn, maybe even bulky or super bulky weight yarn, depending on the project. If you use super-bulky yarn like the Paintbox Yarns Wool Mix Super Chunky, and you'll see your project quickly grow.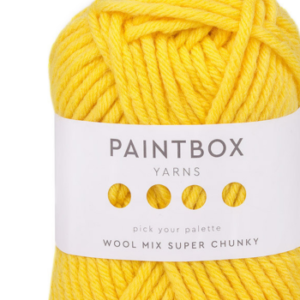 Tip no 6. – Use the Right Hook For You
There are so many hooks to choose from, and there's no magic hook that suits every crocheter. You might crochet faster, for example, with a soft-grip hook like the Clover Soft Touch Crochet Hooks pictured below than with an aluminum hook that causes your hands to slip. At least that made a huge difference for me.
If you find that your hook won't smoothly move in and out of stitches, check your tension. You might be crocheting too tightly. This can cause your hook to get stuck and affect that fluid movement.
Use a larger hook. A larger hook means your stitches will be bigger, so you'll need less of them and save time. You will also make larger, looser stitches that feel softer.
Tip no. 7 – The stitches
Choose a design with a repetitive pattern you can memorize so you won't have to keep checking a written pattern for what to do next. When I crochet something for the first time, it takes a lot longer than when I do it for the second time.
If you are making more than one of the same amigurumi (for example, three dogs), you will be faster if you do one body part of amigurumi for all amigurumi. In my case, first make three heads, then three bodies, and so on.
Textured stitches like popcorn and shell stitch require crocheting several stitches into one. That takes a little longer than adding one single crochet in each stitch. If you're in a rush, stick to stitches that don't have a lot of texture.
Use larger stitches. A single crochet project is going to take a whole lot longer to complete than double or triple crochet.
Generally speaking, solid crochet stitches tend to be more time-consuming than lacy stitches. A pattern that skips spaces is a great way to get ahead faster. For example, projects worked in v stitch are generally quicker than comparable projects worked in double crochet stitch.
Large areas of slip stitches are time-consuming to do, because of the slip stitch's short height.
While you probably don't want to avoid various stitches altogether, it's best to avoid them when you're in a hurry, and you want to finish your project as soon as possible.
Tip no.8 – The project
It's good to try something new – but if you're working on a project that's out of your comfort zone can require an investment of both time and concentration, and it may be slow crocheting until you get comfortable with the new techniques you're trying out.
Choose a smaller project. Instead of a full-sized blanket, make a lap blanket, and instead of a long-sleeve sweater, make it short-sleeved one. You can create projects shorter in length, or leave it open in the front.
If the project isn't holding your interest and is boring for you to make it, you will try to avoid doing it. You will find a lot of other things more interesting than the project, and that can prolong the time you need to finish it.
Also, if switching colors slows you down, choose a solid color project or a multicolor yarn. You can also crochet with two colors at once. It's like a thicker yarn, and it makes an exciting color design.
I hope that these tips help you to crochet faster. So, in conclusion, I want to sum it up.
First, make your surroundings comfortable and bright. Try to work without distractions. Remember to stretch and take brakes. Use bulkier yarn with the right hook. Try to make open stitches, and work on a project that is not too big and complicated, but is still interesting to you.
Pin this article for later here:
Do you know any more tips that might help me crochet faster? Share them with me in the comments below.
Thank you.
Have a beautiful day, and enjoy crocheting.
Katja
Sharing is caring. Please follow and like us: