Crochet Halloween baby boy costume – the coolest costumes you can crochet
Please note, some of the links in the text below are affiliate links, which means that if you decide to buy any of their products or services, I'll receive a small commission. It helps me to maintain my blog, support my family and allows me to continue to create free content. I only recommend products that I use and love. Thank you for your support. For more details click the disclosure
---
In my last post, I showed you the cutest baby girl crochet Halloween costume patterns. Today I want to show you the coolest baby boy crochet Halloween patterns. These outfits can also be sweet newborn photo prop outfits. I have found them all on Etsy.
The first pattern is the Baby Yoda Costume.
Inspiration doesn't always have to come from real-life people. We often find ourselves inspired by characters that live in the kingdoms of the books we read and the movies we watch.
Yoda was a legendary Jedi Master and stronger than most in his connection with the Force. Small in size but wise and powerful, he trained Jedi for over 800 years, playing integral roles in the Clone Wars, the instruction of Luke Skywalker, and unlocking the path to immortality.
Grand Jedi Master Yoda won us all with his kindness, his soothing and trustworthy voice, his wisdom, and, of course, his charmingly funny way of speaking.
These are two of his quotes that I love:
˝Fear is the path to the dark side. Fear leads to anger. Anger leads to hate. Hate leads to suffering.˝
and
˝Truly wonderful, the mind of a child is.˝
The Yoda baby pattern is an instant download PDF. The size of the design is for 0-3 months old babies. The pattern is written in English using US crochet terms. The set consists of a robe, hat, and booties. It is not a complicated pattern, but you need to be familiar with basic techniques and stitches.
The pattern designer is Nataliya from Moscow, Russia, and the name of her Etsy shop is Nataliyaknitting.
The Cowboy
Cowboys played an essential role in the settling of the west. Ranching was a big industry, and cowboys helped to run the ranches. They herded cattle, repaired fences, and buildings, and took care of the horses.
Cowboys often worked on cattle drives. This was when a large herd of cattle was moved from the ranch to a market place where they could be sold. A lot of the original cattle drives went from Texas to the railroads in Kansas. Eight to twelve cowboys could move 3,000 head of cattle along the cattle drives. Now that is a lot of cows.
Cowboys often wore their clothes for weeks without changing (There goes my romantic idea of a Cowboy). They wore denim jeans with chaps to protect their legs from the thorny branches their horses rode through. Their wide-rimmed Stetson hats shielded them from the sun and also served as a cup—they'd use it to scoop up water for both themselves and their horses to drink. They wore a bandana around their neck, which they could pull up to protect their nose and mouth from trail dust.
This 3 Piece Crochet Cowboy Pattern (Boots, diaper cover, and hat) is the perfect little outfit for those prop photo pictures. Easy to read and follow instructions for everything seen in the pictures. The pattern is written in US terminology. You have so many different color options with this outfit. Great design, even for beginners. The pattern size is 0-3 months.
The designer's name is Jessica Gammon, and she lives in New Gloucester, Maine, United States. The name of her Etsy shop is JessMakesAMess.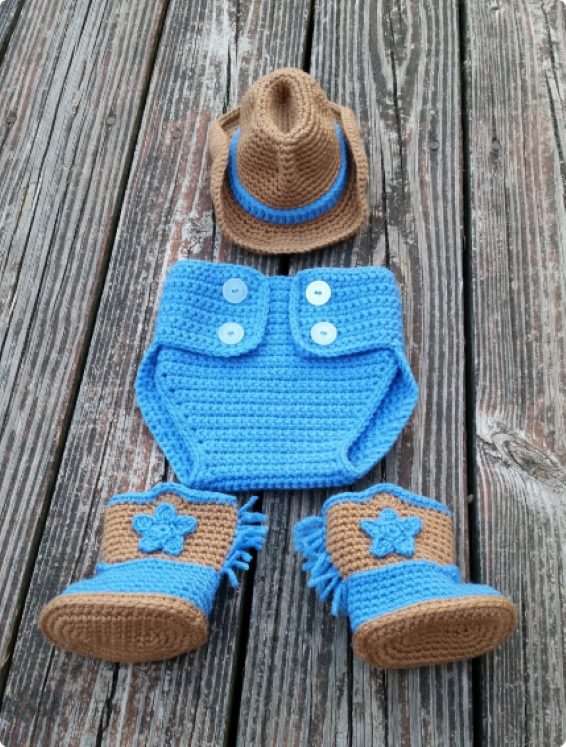 The Marine
Did you know that the Marines were formed before the US won its independence from the British? The same day Major Samuel Nicholas became the commanding officer of the Marines in late 1775, he went to local bars and taverns to recruit his two battalions.
One of his first recruits was the owner of a local tavern known as the Tun Tavern. It became the recruitment base where prospective Marines, attracted by cold beer, were swarmed in. That is an interesting approach to recruit men. The Tavern is often considered the birthplace of the Marines. The original Tun Tavern burnt down in 1781, but was rebuilt and still stands today in Philadelphia. Today, Tun Tavern beer is sold throughout the Philadelphia area. That means you can still drink the beer that lured in new marines.
The Marines' Hymn famously begins, "From the Halls of Montezuma…" This refers to the Battle of Chapultepec in 1847, in which U.S. Marines conquered Chapultepec Castle in Mexico City and occupied the city as part of the Mexican-American War. The battle is also famous (according to Marine tradition) for the establishment of the "blood stripe," a red stripe sewn into the trousers of the uniform honoring the Marines killed at Chapultepec.
I am sure you heard the nickname, Leatherneck. Do you know it is historical?
In 1798, the Marine Corps began issuing "one stock of black leather and clasp" to Marines. The item was worn to protect their necks when fighting with swords. Today, the standing collar on the dress coat of the Marine Corps uniform is a vestige of the leatherneck tradition.
Crochet Marine Pattern is cute for special occasions, as a costume, or just for at home. The bib pattern features a Marine dress jacket. The booties are made to look just like Lace-up boots. Sizes: Bib 0-9 mo. Booties measure 4 1/2", 5 and 6" from heel to toe, and the cap comes in 3 sizes from 0 to 12 months.
What a perfect outfit for photo prop pictures. A keepsake to keep for the military family. Size is 0-3 months.
The designer of this pattern is Sharon Santorum, from Hale, Michigan, United States. The name of her Etsy shop is creeksendinc.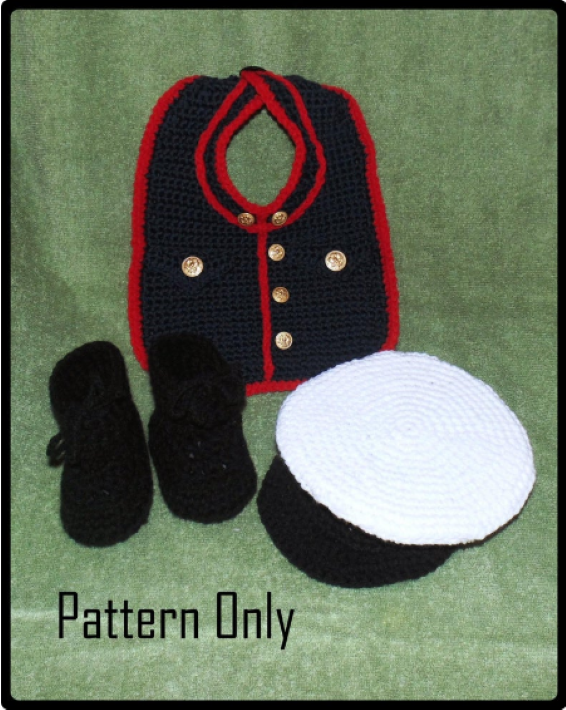 Beauty and the Beast (The Beast Pattern)
Beauty and the Beast (French: La Belle et la Bête) is a fairy tale written by French novelist Gabrielle-Suzanne Barbot de Villeneuve and published in 1740.
Variants of the tale are known across Europe. According to researchers at universities in Durham and Lisbon, the story originated around 4,000 years ago.
Adam the Beast is a pampered prince transformed into a hideous beast as punishment for his cold-hearted and selfish ways, the Beast must, to return to his former self, earn the love of a beautiful young woman named Belle who he imprisons in his castle. He must do this before the last petal falls from the enchanted rose on his twenty-first birthday.
In the original tale, the Beast is seen as kind-hearted for the most part, and gentleman-like, with only an occasional tendency to be hot-tempered. 
His most referenced form of dress is his ballroom outfit, which consisted of a golden vest over a white dress shirt with a white scarf, black dress pants trimmed with gold, and a royal blue ballroom tailcoat trimmed with gold, worn during the film's ballroom dance sequence.
On the photo, you can see the pattern for Baby Beast (Prince) Suit (Jacket, Vest, tie, and pants) mentioned above. The size is 0 to 3 months. The design contains a lot of detailed instructions and step-by-step photographs.
A beautiful suit for your charming little prince has so many details. The jacket is designed using a two-tail tuxedo design with lots of embellished detail along the entire coat. The sleeves have cuffs that are also embellished with added shirt ruffles. Buttons are added to the front and back to finish this rich design. The pants are comfortably designed with a stripe going down the sides. The tie is made with a button on the back and a decorative tie pin on the front. A two-pointed vest is added for the perfect accessory to complete this prince (Beast) style set. 
The name of the Esty shop where you can find this beautiful pattern is BeZazz.
If you want to make a couple, you can find the Princess Belle pattern here: Crochet Halloween costumes – the cutest Haloween baby girl costumes.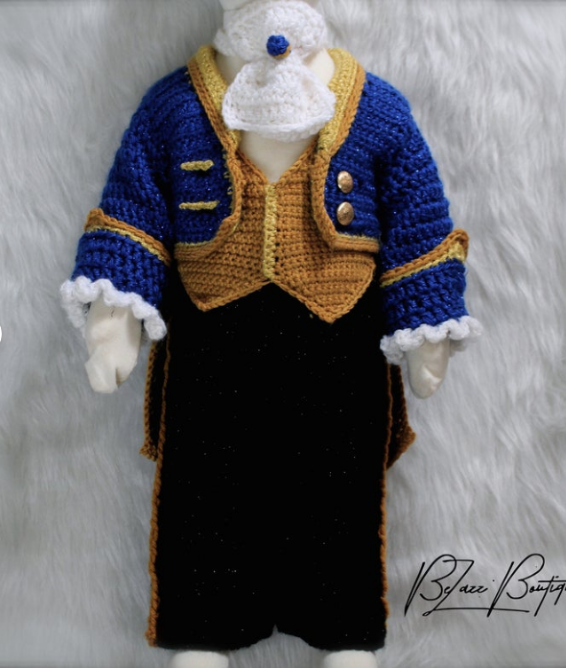 Winnie the Pooh
The beloved "silly old bear" Winnie the Pooh has delighted children for generations – but even adults can appreciate the best of his funny, witty and sometimes bittersweet quotes about life, love, friendship, growing up – and of course, honey.
"A hug is always the right size." ~ Winnie the Pooh
Created by British author A.A. Milne in the 1920s, Winnie the Pooh (then spelled with hyphens, Winnie-the-Pooh) was an instant success. Milne based the characters on his son, Christopher Robin, his stuffed animals—Winnie the Pooh and friends Piglet, Eeyore, Kanga, Roo, and Tigger—and their country home in England's Ashdown Forest. 
Disney bought the rights to Winnie the Pooh in 1961, introducing even more children to the cheerful bear and his love of the simple joys of life.
The Pooh stories have been translated into many languages, including Alexander Lenard's Latin translation, Winnie Ille Pu, which was first published in 1958. In 1960, it became the only Latin book ever to have been featured on The New York Times Best Seller list.
In the Milne books, Pooh is naive and slow-witted, but he is also friendly, thoughtful, and steadfast. Although he and his friends agree that he is "a bear of very little brain," Pooh is occasionally acknowledged to have a clever idea, usually driven by common sense. These include riding in Christopher Robin's umbrella to rescue Piglet from a flood and other exciting adventures.
Pooh is also a talented poet, and his poems and "hums frequently punctuate the stories".
Pooh is very fond of food, particularly "Hunny", but also condensed milk and other items. Though intent on giving Eeyore a pot of honey for his birthday, Pooh could not resist eating it on his way to deliver the present and so instead gives Eeyore "a useful pot to put things in".
"You're braver than you believe, stronger than you seem, and smarter than you think." ~ Christopher Robin
The crochet pattern for Winnie the bear includes a hat, diaper cover, shirt, booties, and little pot of "Hunny". It is the size of 0-3 Months.
The pattern designer is Nataliya from Moscow, Russia, and her Etsy shop's name is Nataliyaknitting.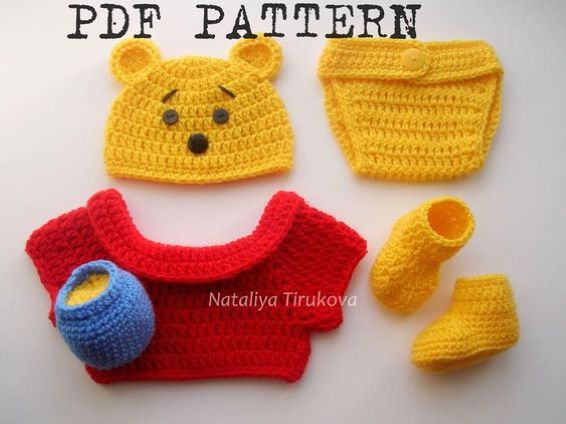 And here are the last two costumes I want to show you today. I hope you like my findings so far.
The Pinocchio
The Pinocchio is a fictional character and the star of the children's novel The Adventures of Pinocchio (1883) by Italian writer Carlo Collodi. Pinocchio was carved by a woodcarver named Geppetto in a Tuscan village. He was created as a wooden puppet, but he dreams of becoming a real boy. He is notably characterized by his frequent tendency to lie, which causes his nose to grow. To become a real boy, Pinocchio must prove himself brave, truthful, and unselfish, with the help of Jiminy Cricket as his conscience.
Always let your conscience be your guide.— Jimmy Cricket, Pinocchio
Pinocchio is a cultural icon. He is one of the most reimagined characters in children's literature. His story has been adapted into other media, notably the 1940 Disney film Pinocchio, which won two Academy Awards. It is the first Disney film to win an Oscar for both musical categories: Best Score and Best Song (for "When You Wish Upon a Star").
A lie keeps growing and growing until it's as plain as the nose on your face.— The Blue Fairy, Pinnochio
The cute baby boy Pinnochio costume is a beginner to an intermediate pattern. It is written in US Crochet Terms. Pinocchio pattern is available in size newborn – 3 months. But you can also find a pattern in Laurie's shop for 12 to 18 months old. Costume Pattern includes hat, pants, shirt, shoes, feather, bow tie, and suspenders.
The designer of this fascinating costume is Laurie Lambert from Simcoe, Canada. Her Etsy shop is JayKayS Crochet. Her specialty is crochet baby items. She loves making tiny costumes and shoes for little ones to wear.
The last cute crochet pattern for baby boy is The Scarecrow.
A scarecrow is a decoy or mannequin, often in the shape of a human. Humanoid scarecrows are usually dressed in old clothes and placed in open fields to discourage birds from disturbing and feeding on recently cast seed and growing crops. Scarecrows are used across the world by farmers and are a notable symbol of farms and the countryside in popular culture. I am sure you are thinking you don't want your baby to be dressed as a scarecrow. But wait till you see how cute this costume is!
Did you know there are a lot of Scarecrow festivals in the world?
In England, the Urchfont Scarecrow Festival was established in the 1990s and has grown into a significant local event, attracting up to 10,000 people annually for the May Day Bank Holiday. It was the first Scarecrow Festival to be established in the whole of southern England. According to the Guinness book of records, the largest gathering of scarecrows in one location is 3,812 and was achieved by National Forest Adventure Farm (UK) in Burton-upon-Trent, Staffordshire, UK, on August 2014. That is a lot of scarecrows in one place!
This Scarecrow quote is from the Wizard of Oz and is going to make you smile: "People without brains do an awful lot of talking, don't they?"
The crochet pattern of a Scarecrow costume gives you the instructions, so you can make a scarecrow hat, overalls, and little amigurumi corn and pumpkin prop. Perfect for Halloween and a photo prop for every little boy and girl.
The Etsy shop owner is Amanda Kuhn, from Virginia, United States. The name of the shop is AMKCrochet. Amanda's specialty are crochet patterns in Newborn Photo Props.
Today I have shared seven unique and fascinating patterns to crochet for Halloween or as a photo prop. I have also shared a lot of interesting facts about each and every one of them. Maybe this way your decision of picking the right costume will be more comfortable. Or at least you will have some fascinating data to share with your friends at the Halloween party.
Pin this post for later here: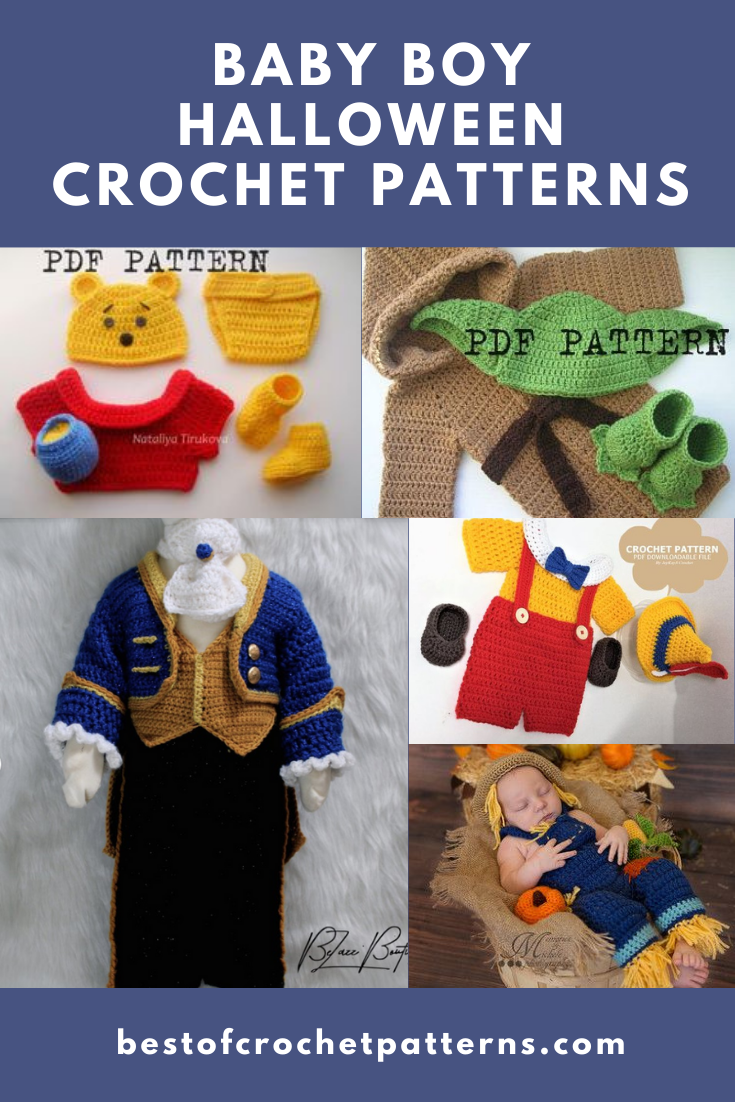 Which baby boy costume do you like the most? Did any of the facts surprise you? I would love to know. Please, share with me in the comments below.
Thank you for reading.
Enjoy crocheting.
Have a beautiful day.
Katja
Sharing is caring. Please follow and like us: