Cat Lovers Gifts – Crochet Cat Patterns
Please note, some of the links in the text below are affiliate links, which means that if you decide to buy any of their products or services, I'll receive a small commission. It helps me to maintain my blog, support my family and allows me to continue to create free content. I only recommend products that I use and love. Thank you for your support. For more details click the disclosure
---
It is so hard to find the perfect gift sometimes. If you are looking for a gift for a crocheter who loves cats, search no more! Here are the perfect gifts for cat lovers. Or if you are a cat lover, you are going to love my ideas.
I have also included Cat Quotes to brighten your day. You can add them to the gift card. 😉
Here we go.
"I had been told that the training procedure
with cats was difficult. It's not.

Mine had me trained in two days."

~ Bill Dana
Cute Cat Crochet Hook and Stitch Marker Set. Made by PasticheAccessories.
This is actually not a set; I put it together because I found both in Noelle's shop, and I think they look fantastic together. Don't you? There are other color combinations available too, so take a look at her shop, and find what you like best.
"In ancient times cats were worshipped as gods;

they have not forgotten this."

~ Terry Pratchett
And I found another Polymer Clay Cat Stitch Markers. They are so cute, and you can find so many various cats in Weeones Etsy Shop. Jillian has many different animals, foods, and plants in her shop. One is cuter than the other, but today I only focus on cats. Check out the others here.
"There are two means of refuge from the miseries of life:

music and cats."

~ Albert Schweitzer
Don't you just love a funny T-shirt? I know I do! I love to see people laughing when they are looking at my shirt.
Below you can see T-Shirts from my Etsy shop Pass On The Smile. There are cats, and there is crochet. Does it get any better?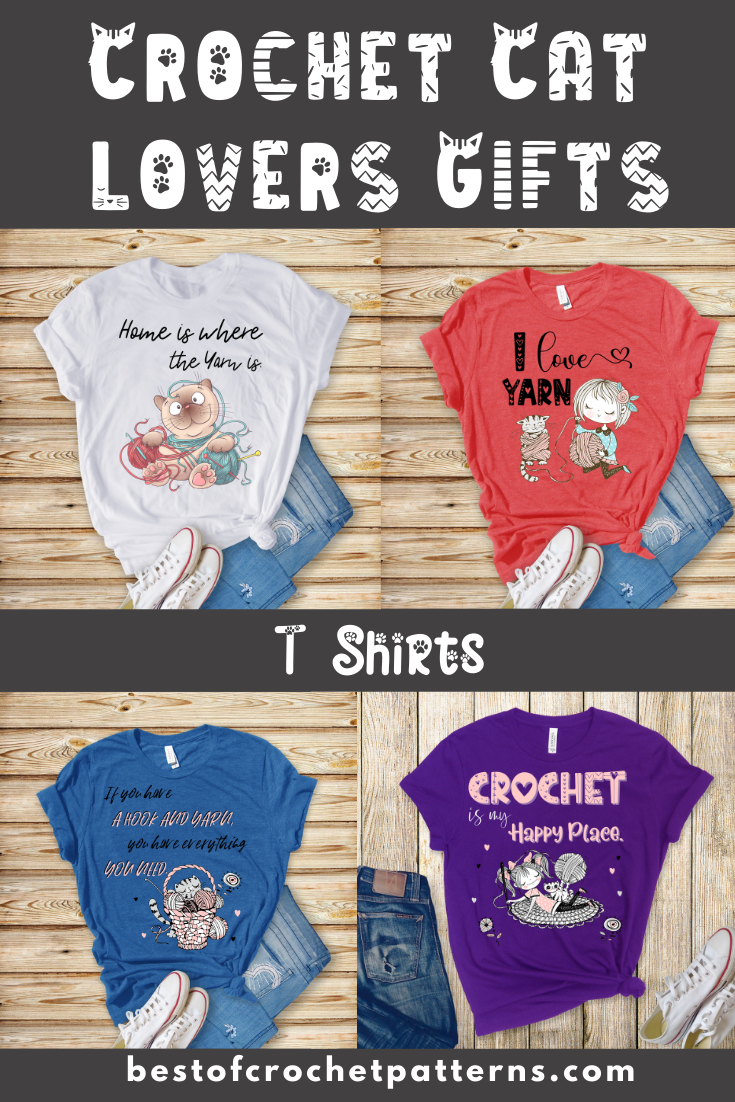 Hehe, yes, it does!
Here are some patterns that you can make with these fantastic new tools.
Decorating your home like a true cat person may seem like a recipe for cheesy decor, but there are plenty of ways to own who you are in an elegant, stylish way. One creative way to get cat-friendly in your home or office is decorating with items made from the cat patterns below.
First, I want to show you my patterns, of course! You can see my newest cat patterns in the image, and if you check this blog post, you will find a lot more. Make sure you use the BESTOFCROCHET discount code and get 20% off. This is a gift for you because you are my reader. Thank you.
You can find the Patterns in my Etsy Shop and on my Website here. The Coupon Code is valid on both.
And here you can find FREE Pusheen Cat Pattern: Irish Cat
"Owners of dogs will have noticed that,
if you provide them with food and water and shelter and affection,
they will think you are God.
Whereas owners of cats are compelled to realize that,
if you provide them with food and water and affection,
they draw the conclusion that they are God."
~ Christopher Hitchens
Here is a cute Cat bed worth of cat gods to lay in them. I have found so many of them; I will have to make a separate post to show them to you. I can't wait to make my cats new beds. I love to see how they are trying them out while I am still crocheting it. Go to my Instagram page, and you will find a photo of my cat lying in the basket that I was making for my baby.
"A happy arrangement: many people prefer cats to other people,
and many cats prefer people to other cats."
~ Mason Cooley
If you want to make something quick, I would recommend you these Minimalist Cat Coasters. Aren't they cute?
"You can not look at a sleeping cat and feel tense."
~ Jane Pauley
For someone who has a sense of humor, this crochet cat butt pattern is a great idea.
"Kittens are angels with whiskers."
~ Alexis Flora Hope
I have also found these Face Scrubbies with Cat Paw Design.
"Cats leave paw prints in your heart,
forever and always."
~ Unknown
And the last pattern I want to show you is a Cat bookmark pattern by YarnWaveShop. I absolutely love Banga's patterns. She is so amazing; if you want to get to know her better, read the Interview, I did with her.
What is your favorite gift for a Crochet Cat Lover?
Please share it with me in the comments below.
Make sure you Pin this article for later to find it every time you will need inspiration.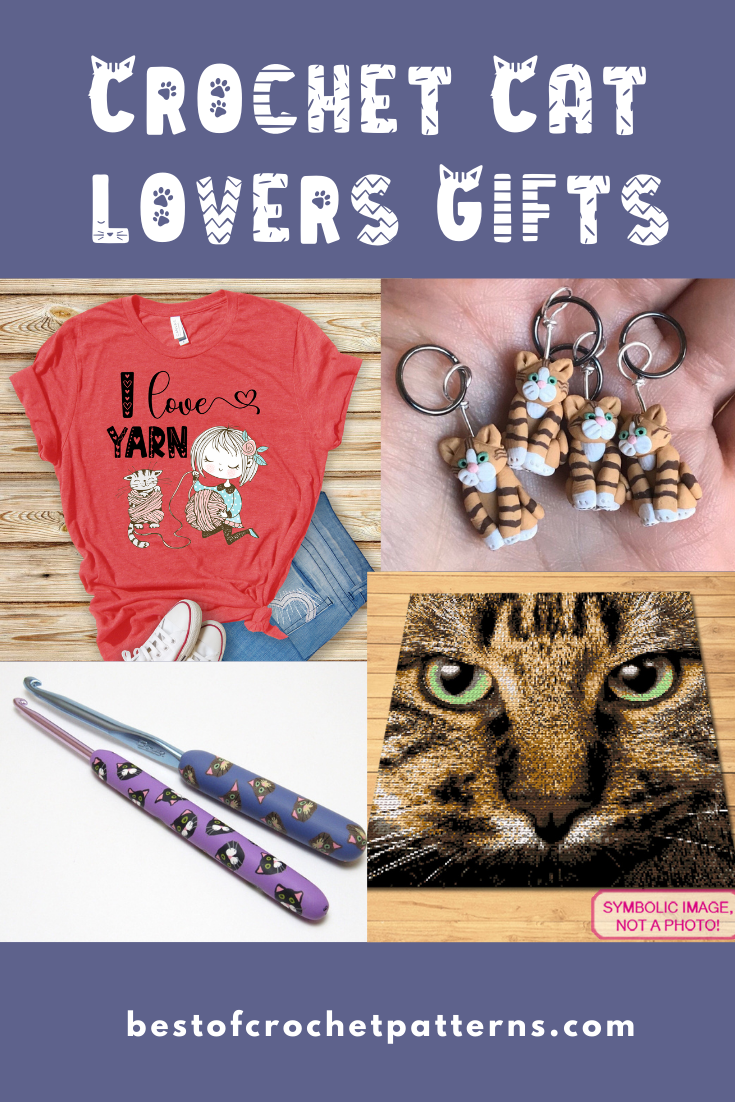 Have a beautiful day, and enjoy crocheting.
"Time spent with cats is never wasted."
~ Sigmund Freud
Katja
Sharing is caring. Please follow and like us: