Crochet Doll Artist Interview – Ayda Lund
It has been such a long time since I posted on my blog. I had a baby, and I needed to take some time for my family. But I am back now, and I am so excited to open my blog again with this special interview.
Today I want to introduce an incredible artist. Ayda Lund found me through Instagram. And I am so glad she did because I love to feature fascinating crochet creators on my blog.
Ayda is 47 years old. She is married and has two sons. She is from Sweden and works as an administrative officer at an art school in Stockholm. She is a self-taught artist.
Ayda has been crocheting with sewing thread for only two years, and because she has an eye for details, it really suits her to work with sewing thread.
She hopes to have an exhibition someday. And I am sure that it will be full of visitors when she does. I know I would want to go to an exhibition like that.
Here is a picture of Ayda Lund with her Neneh Cherry doll.
Ayda's dolls are such a piece of art; they are about 17cm (6,7 inches) tall and take up to 1000 hours to complete. And then, she also builds a set for them.
Just look at all the details on her Sade doll that she is working on right now! Ayda uses a 0.35 mm hook. She has crocheted up to 16000 and 500 hours so far. One row is half of the millimeter tall (0,019 inches), hence the number of hours. The hand is 0.9cm (0,35 inches).
Check out the photos below, and read the fascinating interview I made with Ayda.
1. How did it all begin? Tell us your story.
For as long as I can remember, I have always loved all sorts of handicrafts; crochet, embroidery, sewing doll clothes, knitting, making clay pottery. I crocheted my first doll in elementary school, and I became obsessed immediately. I was a quick learner and could basically crochet free hand at the age of 10. It was very exciting to see a doll developing in between my fingers. It was a magical experience.
But in my teens, I lost interest, and then life came in between: studying at university, moving away from home, get a job, traveling, marriage, children. So I had a 20 year break until my first parental leave. I had postpartum depression and picked up crochet as a way to distract myself. It was very meditative, soothing, and therapeutical. I started making amigurumis for my children and later on dolls. A colleague of mine was intrigued by my dolls and asked if I could crochet a doll of her. I was immediately attracted by the idea and did it – she said it was the most beautiful gift she had ever received.
During the process, I discovered that not only did I have a unique talent for details but also that I was able to somehow capture the "essence" of the actual person I was crocheting. My crochet became very personal for me and it brought meaning to my life.
After that ideas started to literally flood in my brain. I realized that there were no limits to what and who I could crochet. I wanted my next doll to be someone really special, someone I had an emotional connection to and that have made an impact in my life. And so I connected to my younger self – a young Ayda who was obsessed by artists such as Michael Jackson, Janet Jackson, Whitney Houston, amongst others. But I wanted to crochet a doll of an icon of whom there wasn't a doll, less a crocheted one – aaaand voila Neneh Cherry – A Swedish female rapper who broke records with her smash hit "Buffalo Stance" in 1989. In the late 80's when hip hop was generally an all-boys club, Neneh Cherry came along and changed the game for girls.
I didn't plan to crochet her in sewing thread, but I couldn't find the right nuance of her skin colour in regular yarn, and it was very important for me to represent her skin colour as close to her in reality. And I could only find the right nuance in sewing thread, so I had to surrender, and the rest is history.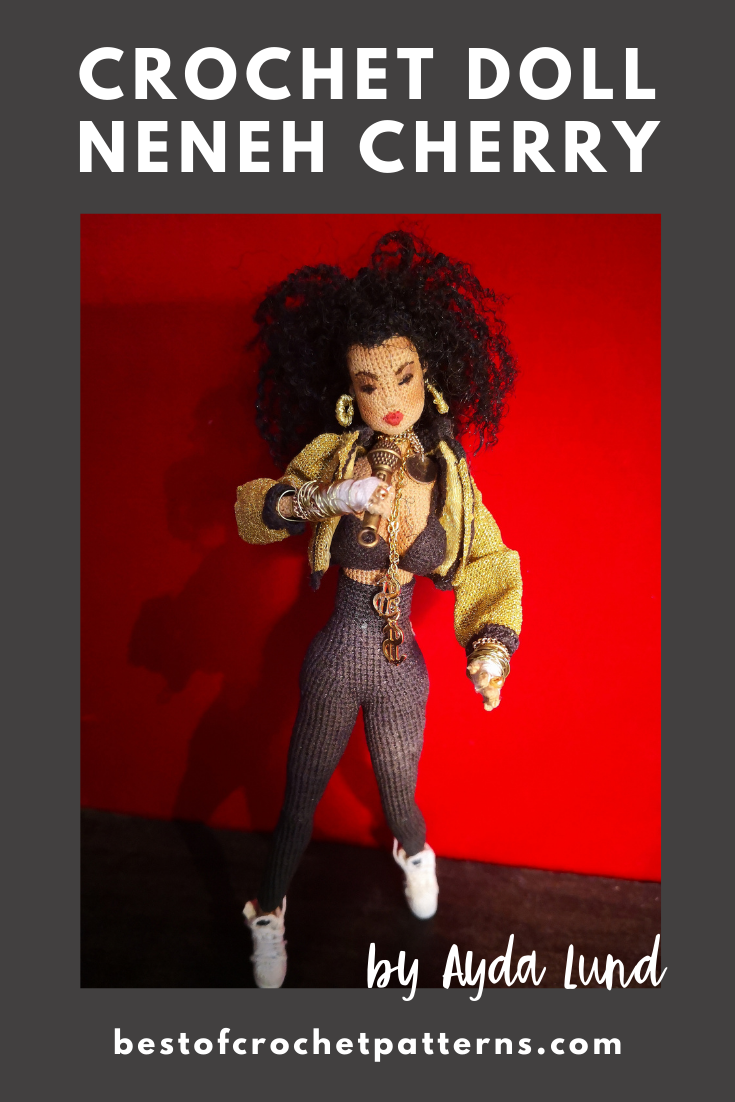 2. What inspires you?
I feel very inspired by beginner crocheters – the absolute joy and pride when they have finished a project, it can be a granny square, a teddy bear, a scarf, is tangible. It is so pure, like a child's joy when they have made their first drawing and they show it with such pride… they are just so happy – to see that in adults bring me to tears sometimes.
Designers such as Yohji Yamamoto and Rei Kawakubo (Comme des Garcons) are very inspirational to me. There is a story in their creations that resonates with me on a personal level. I have a friend who worked for Yamamoto, and he had once said that "you can speak to fabric" -– and now I feel I can speak to thread.
I am very inspired by artists who are very dedicated and passionate for their art, I realize that the majority of them have worked relentlessly and very hard, perhaps even sacrificed a lot. And so I can feel the love and dedication they have put in their art, and I feel connected on a personal and emotional level.
My husband also inspires me. He is a fantastic supporter of my handicraft, and he never questions the hundreds of hours I put into my dolls. The Neneh Cherry doll took about 1200 hours to complete. He even helped me make a stop motion music video for Neneh Cherry. My new project is singer Sade, and so far I have crocheted nearly 16000 stitches and 500+ hours. He does however worry about my stiff shoulders and back, but I do a lot of stretching and have good posture.
Here is the Video:
3. How does your every day look like?
I have a regular job, so my days are exactly like any other parent: wake up early, coffee coffee coffee, and struggling to wake the children up and getting them ready for school. I walk my youngest to school and then go to work. I crochet in my spare time, in the evenings, weekends and holidays. I used to crochet up to 12-15 hours during the weekends and holidays, but my back and shoulders were quite damaged by that, so I now crochet 2-3 hours per occasion. I can't stress enough the importance of ergonomy and breaks. I stretch and do relaxation exercises minimum of 1 hour every night.
And here is Sade, a new project Ayda is still working on it.
One arm is 3000 stitches.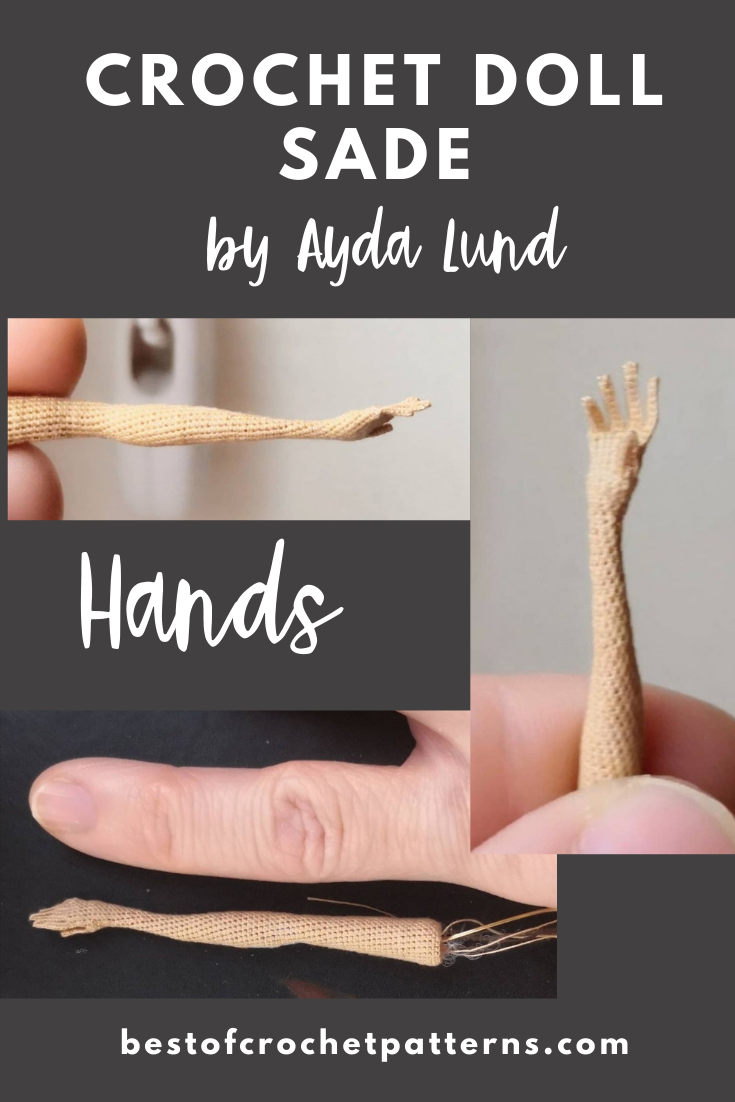 4. What is your favorite yarn?
100% cotton
5. Where can people find you?
On Instagram: Instagram.com/aydasdolls
I am so excited I got to meet Ayda and show her work on my blog. I love featuring outstanding artists and share their stories with my readers.
I am sure you were also wondering, so I asked Ayda if she sells her dolls and takes any custom orders.
This is what she said:
"As for now, I don't sell or take custom orders. I tried once to sell and opened an Etsy shop, but I am such a terrible seller, and most importantly, it took away time and focus from what I really wanted to do – which was to create.
I make them only from inspiration, and because they take such a long time to make, I also must be obsessed with the person I make a doll of. It is the love that keeps me going. And that is also why I can't take custom orders because "what if I don't love the doll I am making?" So that is part of the process. But many people have said that the dolls should be in a museum, so maybe I should have an exhibition. Who knows."
Thank you so much for reading this interview. If you have more questions about Ayda Lund's work, you can post a comment below or contact her on her Instagram.
Have a beautiful day, and enjoy crocheting.
Katja
Sharing is caring. Please follow and like us: