Top seller on Etsy interview – Inspirational stories on success Ira Rott
It is time for another Top Etsy Sellers interview. You can read the first one here. I have a few favorite pattern designers, and the numbers are increasing everyday. I am so happy to introduce you to a very successful and talented designer. I adore her shop.
She has the cutest patterns, and you can choose from more than 200 of them. The designer's name is Ira Rott from Southern Ontario, Canada, and her Etsy shop is called IRAROTTpatterns. She has patterns for hats, blankets, rugs, loveys, and clothes too. She also wrote not one, but three books. You can even find knitting and quilting patterns. Talk about the options!
Pin this post for later here: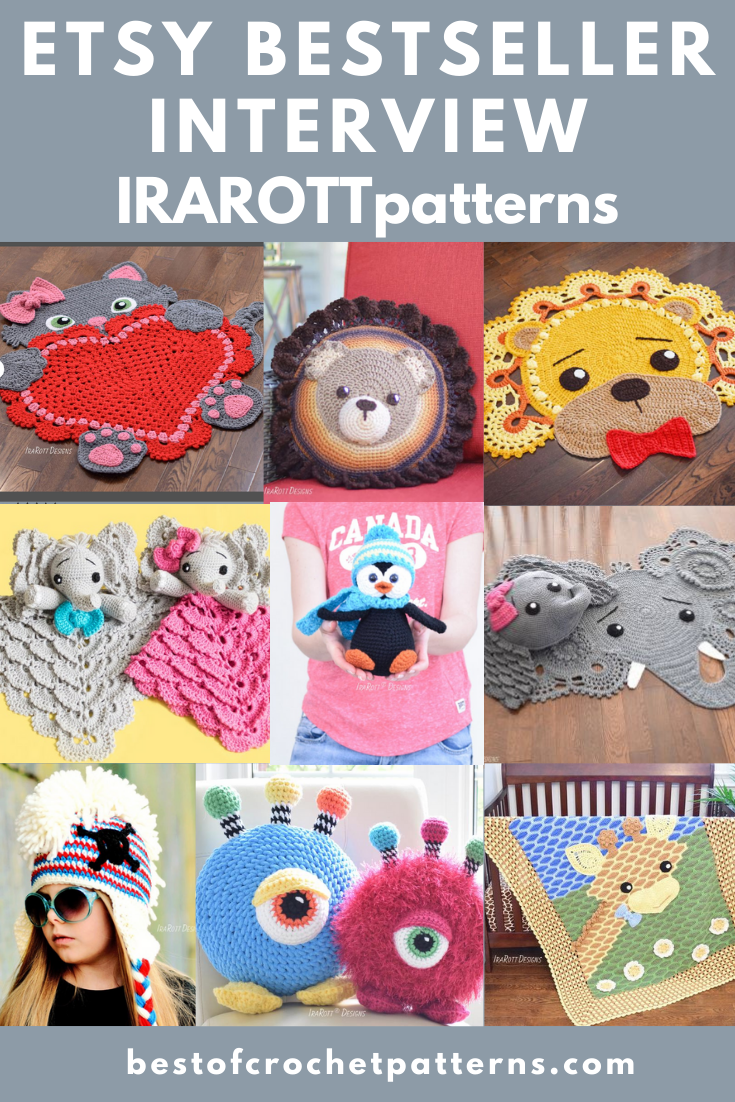 She is a little camera shy, that is why we didn't do a video interview, but she was so kind and took the time to answer my questions. She is so amazing that she even offered a gift to my readers. She gave a 20% discount on all of her patterns! That is truly wonderful.
Here is the discount code: HAPPYCRAFTING – 20% off on all patterns in IRAROTTpatterns shop until November 15 (Midnight EST). That certainly is an offer you do not want to miss.
How did it all begin? Tell us your story.
I have always had a passion for making things from strings. Anything fiber related makes my eyes sparkle. Coming from a family of textile engineers, I was surrounded by fabrics and yarns from the time I was born. That's why knitting, crocheting, and sewing feel natural to me. My first crochet projects were doilies from thread that I enjoyed making in middle school. In high school, I tuned into a fashionista, so I learned to draft sewing patterns, sew my own clothing and knit/crochet sweaters…If I could dream it, I would achieve it.
About 17 years ago, I started designing crochet clothing inspired by Irish, Bruges and Romanian Point Lace Crochet. Unfortunately, not many of my earlier designs are still available as patterns but there are some. For example, here is my Bruges Crochet Skirt pattern.
At the present time I enjoy creating and writing fun patterns inspired by animals. I am so thrilled that my Josefina & Jeffery the Elephants became loved and popular in the crochet community. It makes my heart incredibly happy when I see projects made from my patterns. Please keep sharing them on social media using hashtag #IraRott and tag me @IraRott in your posts when possible.
Last year I published my book "Crochet Animal Rugs" which includes 21 fun crochet patterns for 7 animal themes: elephants, monkeys, dinosaurs, kitties, crabs, giraffes, and pandas. So now, my patterns are available in print as well as in PDF format.
My family and our children inspire me each and every day. My husband Maurice is my best friend and cheerleader, it's so easy to live a creative life with his continuous encouragement and support. Even though it's hard to see our kids turning into independent adults so quickly, I am very proud of their accomplishments and my heart is full of lasting memories we've created by crocheting, knitting, and sewing together. I hope that they will carry on these wonderful crafting skills to their children, just like my parents & grandparents passed their skills to me.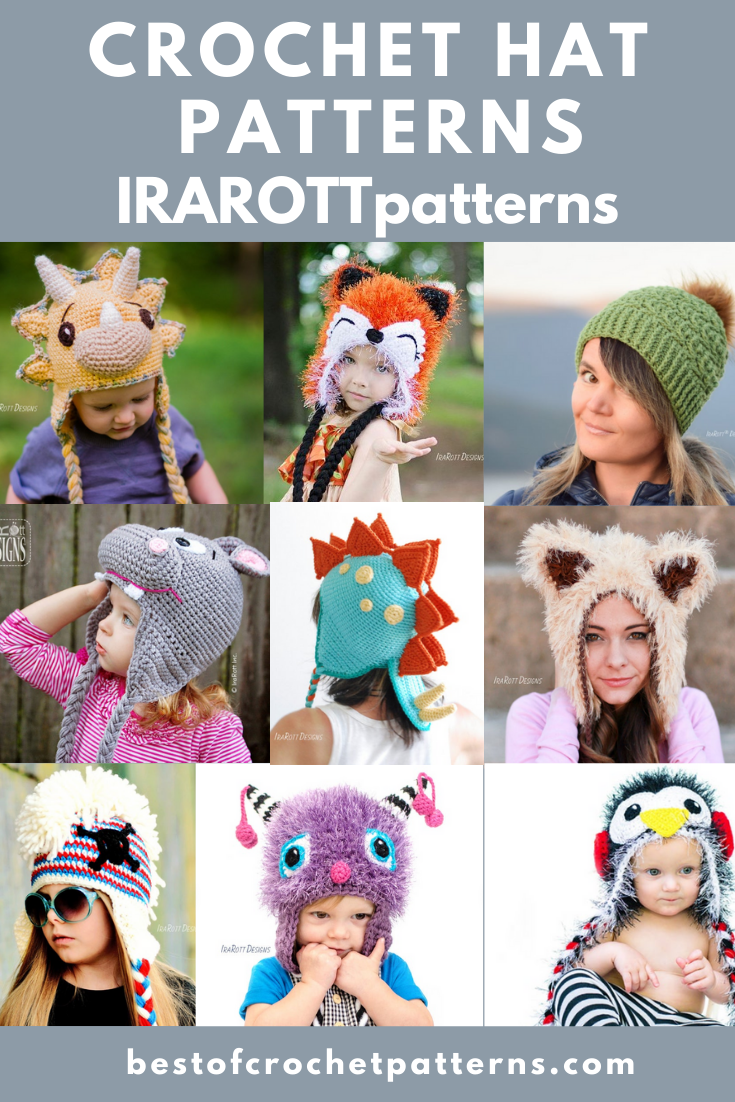 How does your every day look like?
Well, every day is a new day with new goals…however, my usual working day looks like:
1. 10K morning run
2. Answering questions on social media, answering emails and Etsy messages
3. Posting my work in progress and updates on social media
4. Pattern writing, photo editing, drawing diagrams
5. Team work with Polina (our youngest daughter who helps me with graphic design)
6. Working on my new projects – knitting, crocheting, spinning, sewing or quilting
What is your favorite yarn?
Oh my, it would be better if you asked what isn't my favorite…I loved most yarns I have worked with and I love trying new yarns in any weight category and any fiber content…It all depends on my mood. Right now, I am having a blast with Red Heart Chick Sheep yarn by Marly Bird.


I also like to spin my own yarn using a drop spindle, and I hope to get a spinning wheel someday as well.
I am so grateful Ira took time and answered my questions. This is such an inspirational interview. Ira Rott is undoubtedly one of Etsy top sellers, with her 63500 sales. She is truly an amazing woman. It is pleasant to see a wonderful tradition has been passed on from generation to generation in their family. I think that every mother wishes that something that she loves would be so well received with her children.
Ira has even written a book and spins her own yarn. Astonishing! I have bought her book, and I can honestly say it is fantastic. I wouldn't expect different since I know her patterns from Etsy. I have bought five of them, and I know I will buy more.
Here is the discount code again: HAPPYCRAFTING – 20% off on all patterns in IRAROTTpatterns shop until November 15 (Midnight EST).
I hope you enjoyed reading this as much as I enjoyed writing it. Which is your favorite design from the IRAROTTpatterns? Please tell me in the comments below. Thank you.
Thank you for reading.
Have a beautiful day.
Enjoy crocheting.
Katja
Sharing is caring. Please follow and like us: