Crochet patterns using scrap yarn – how to use all the yarn that remains
In this post, I wanted to talk about yarn scraps. I will show you some fun and easy crochet scrap yarn patterns so that you can really use every little piece of the yarn.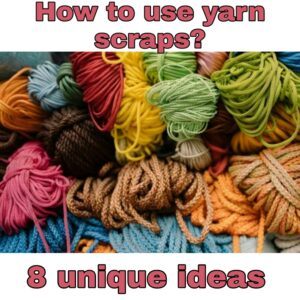 Use it to stuff your amigurumi.
First, and the easiest way to use it is to stuff your creations with it. You can use it instead of fiberfill. I usually put both in the toy, that way it stays soft and bouncy. But make sure you don't put too much dark yarn in your projects made with light yarn, because it may show through the stitch holes. And you don't want that.
The second thing I like to do with yarn chunks is flowers.
There are so many different patterns for cute little flowers; here are some of my favorites. I have put these flowers on hair clips. I have also made earrings with them. They look super cute. Here are a few adorable little flowers you can make with scrap yarn.
First is the easiest and beginner-friendly:
I like this, it is called crochet puff stitch, and the flowers have this beautiful three-dimensional appearance:
Next, are crochet roses. Classical, but always beautiful:
Next flowers are effortless and very fast to make. If you stitch them together, you can create a very colorful scarf or even a blanket:
The last is the flower with a bead. Here is an excellent example of how you can make a simple hat more extraordinary with just one flower.
I love to make little crochet beads with yarn pieces.
They are easy to make, and you can use them for unique pieces of jewelry, like a necklace, bracelet, or earrings.
I have made these beads. All you need is a wooden bead and you crochet around it.
And here is a youtube video, that shows you how to do it:
You can make a crazy ball of yarn with it.
That means that you tie together all the stripes of leftover yarn and then crochet something with it. You can make a toy, a blanket, or a scarf. Here is the picture from Gabrielle Zillig-de Kreij and the bear on the image is made from Dutch pattern from Stip&Haak;. I suggest you join your ends invisibly with Russian Join or you can just tie it with a knot and wave along the ends while you crochet.
Here is the video that shows you how to do a Russian Join:
And here is a video of magic knot:
Next, the best thing to use yarn scraps is granny square.
There are so numerous patterns available to crochet adorable granny square blankets, cardigans, and shirts. You can even make a bag or a purse with granny square.
Here are some free videos.
Granny square blanket:
Granny square cardigans:
Granny square with the heart in the middle:
Two beautiful tutorials of granny square with flower in the middle:
And the last video tutorial is a triangle granny square. You can make colorful flags and decor your room with them.
I love to make something for my cats.
If they don't steal my yarn before I finish their toys. Sometimes they are happy just with the string, but sometimes I make them a ball or a little mouse. You can fill the toy with catnip. They will adore it.
Here are two cute ideas that cats will absolutely adore:
Bookmarks always come in handy.
I love to read, and I usually read more than one book at the same time. That is why I need a lot of bookmarks. It is also an excellent idea to use yarn scraps.
Making waves bookmark pattern is here:
And if you read more romantic books than this very elegant crochet bookmark will be the one for you:
And the last idea of how to use yarn scraps is…
You can make face scrubs. They are eco-friendly. If your leftover is cotton yarn, then this is the perfect solution for using it. Cotton is ideal because it is very soft and, you can wash it at high temperatures. I would recommend using organic (bio) cotton.
Here is the tutorial for making simple face scrubs:
I hope you like my ideas on how to use yarn scraps. I would love to see what you do with your leftover yarn. Please share with me in the comments. Thank you.
Have a nice day.
Katja
Sharing is caring. Please follow and like us: