Linktree for Instagram – How to create your own for FREE
I have some exciting news! I have opened my Etsy shop, where I sell Tapestry Crochet Patterns, you can see it here:
https://www.etsy.com/shop/PrettyThingsByKatja
These are some of my latest creations.
And I created an Instagram account. I am so excited! 🙂 You can check my Instagram account here @pretty_things_by_katja
I must say that I love Instagram.
The only thing that bothers me is that I can only use one link in my profile, and that is it. But now, I want to promote my blog and my Etsy shop. Some people change the link in the bio for every post, but I don't like that. So I did my research, and I want to share with you how to make your own Linktree for Instagram step by step. You can use your own brand colors with no additional costs. 😉
I don't know why I was waiting so long to create an account on Instagram. It is so fun, and I must say that I am getting followers a lot quicker than on Facebook. But what is even more essential, on Facebook, most of my likes come from my friends. That is nice, but they are not my potential costumers since most of them don't crochet. But there is an entirely different story with my followers on Instagram. I have currently 141 followers (in two weeks), and only two of them are my friends, everyone else are crocheters. And, these are my potential costumers.
Instagram is a social networking app made for sharing photos and videos from a smartphone. Did you know that currently, 1 billion people use Instagram every month, and that number is still growing? That's 1 billion potential customers!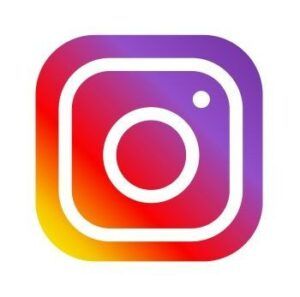 Here are some interesting statistics for Instagram
500 million people use Instagram Stories every day. 62% of people say they have become more interested in a brand or product after seeing it in Stories. If you're not using Stories yet, this is one of those Instagram stats that strongly suggests you might want to start.
Instagram is considered to be the best social media platform for engagement or your ability as a brand to connect with your followers. It's visual, simple, and it's attracting the younger generations more than other social media platforms. 200 million Instagram users visit at least one business profile daily. 
89% of users are outside the U.S.
Of Instagram's one billion users, only 110 million are from the United States. Americans are the biggest Instagram audience, but they're very far from the majority. The top five countries for Instagram users are:
Brazil: 70 million users
India: 69 million users
Indonesia: 59 million users
Russia: 40 million users
The U.S. audience represents only 11% of all Instagram users, but the number is growing consistently.
The network is far more popular with younger users.
The largest age group that uses Instagram is from 18 to 29. Here are the statistics:
18–29: 67%
30–49: 47%
50–64: 23%
65+: 8%
You have to do your research to determine the age breakdown of your own followers, but these Instagram user statistics provide a good starting point for thinking about your target customer.
The gender mix on Instagram is pretty even: 52% female and 48% male.
Those are some very intriguing statistics, don't you think?
For me, one of the shortcomings of Instagram is you only have one spot to put a clickable link, and that is in your profile. You can put a "swipe up" in your stories – but only if you have over 10,000 followers. Many of us are aiming for that many followers, but haven't yet reached that goal.
We have to come up with other ways to send followers to our links. You can put a link within feed posts, but users cannot click on it (or even copy it). That sucks a little!
The link in your profile is the one place, for most of us, that we can send followers right to our website.
Because of that, the link in your bio is critical for driving traffic to your website.
Some users are changing the link every time they posted a photo, and others use the site called Linktree (and other similar sites), that lets you create a page of multiple links.
The problem with Linktree (and other third-party software) is you are sending users to another site. Wouldn't you instead send them right to your own website?
You benefit from the traffic in your analytics.
Plus – to have Linktree branded to look like your site, you have to pay monthly. Let me instead show you how to create your version of Linktree for Instagram and send people directly to your website where you can have your branding set up and not have any additional monthly cost.

How to create your own Linktree?
1. Start with Canva.com. The buttons I created are 450 x 100 pixels. You may have to experiment to see what works best for you. Remember that people will see your page on a mobile device, so test the preview from your phone, not your computer. You want your buttons to be as easy to read as possible. Here are my buttons:
Using Canva, you can create your buttons to match your brand colors and fonts (you have to pay to customize in Linktree). I have made mine with my web site colors.
You may also want to create a few buttons for your most popular blog posts or content. Consider what parts of your website you most want to send people to and make buttons for those areas.
Here is the video on YouTube to show you how to make buttons using Canva:
2. Create a page
(not a post) in WordPress (or your blogging platform). Add your buttons and link them to the appropriate page on your site.
3. Name your page the way that Instagram users know that they are going to a page specifically for them. My page is bestofcrochetpatterns.com/insta-links/.
Extra benefit of creating your own page is that users on Instagram see the name of your website, and this helps with your branding.
4. Publish on Instagram. Once you have created and published your page, go to your Instagram settings, and change the link to the new page you have created. You do not need to add this page to your site's navigation. The only place you will put this link will be on your Instagram profile.
Congratulations!
You can now change and add buttons any time you want, and always drive traffic to your site, not a third-party site.
Pin this tutorial for later here:
I hope this tutorial helps, it is not about crocheting, but I know a lot of crocheters have a blog and at least one shop. And, of course, you want to promote everything on social media.
Do you have an Instagram account? You can follow me here: @pretty_things_by_katja
Have a beautiful day, and enjoy crocheting.
Katja
Sharing is caring. Please follow and like us: