Etsy Bestseller Interview – Crafting Happiness
Please note, some of the links in the text below are affiliate links, which means that if you decide to buy any of their products or services, I'll receive a small commission. It helps me to maintain my blog, support my family and allows me to continue to create free content. I only recommend products that I use and love. Thank you for your support. For more details click the disclosure
---
It is time for another Etsy Bestseller Interview! How I love this part of my job! Today I get to introduce you to Ariana from Southampton, United Kingdom.
She is the owner of CraftingHappinessUK Etsy Shop. Ariana designs unique and modern crochet baby blankets, afghans, and toys for themed nurseries and kids' rooms.
In her Etsy Shop, you can find 60 Crochet Patterns, from Animal Baby Blankets, Animal Baby Loveys, Hooded Blankets, Modern Baby Blankets, Appliques, and much more.
Ariana also enjoys sharing her crochet knowledge through her tutorials on YouTube, where she posts stitch video tutorials, step-by-step patterns, and crochet techniques. You can find Crafting Happiness YouTube Channel here.
Ariana has three stepchildren and three cats. She lives in England, but her patterns are all in US terms (She gets asked that a lot).
Read her fantastic Interview below.
1. How did it all begin? Tell us your story.
My story is is similar to most of other crocheters, I grew up watching my grandmother crocheting beautiful intricate pieces, made with love and meant to be cherished for years to come. She thought me the basics of crochet and years later, when I picked up the crochet hook again, I learn more complex designs and patterns on my own.
I have a large extended family with lots of granchildren and I always get asked to make blankets for them. At first I made simple designs and posted photos online and that led to more requests for other designs. As I got more and more requests, I decided to write down the patterns and and share them with everyone for free on my blog, Crafting Happiness.
Even now, years later, when I started selling my designs, I still offer my patterns for free for 3 days so anyone can have a chance to get them and make something beautiful for their loved ones. Then my patterns go for sale on my Etsy & Ravelry shops and I focus on my next design.
People started contacting me with questions about my patterns and I discovered it's easier for me to show them in a video how to do it. And this is how I started my Youtube channel. As it grew bigger, I started posting tutorials and even full patterns. Now I post every week.
I love helping and teaching crochet, but as my patterns became more and more popular, I couldn't keep up with the messages and requests. So I created a Crochet Club on Patreon where customers can get access to exclusive member's video and get free patterns every month.This way I can focus my help where it matters the most.
I still try to answer every question I get but it's getting harder and harder and the time became more limited. My bigest wish is to have 50 hours in the day!
Now I specialize in baby blankets and nursery decor, I love creating cute things for children. I try to post a new pattern every month along with helping videos and written tutorials.
2. What inspires you?
I draw inspiration from everything and everyone around me. Sometimes could be a pattern on a shirt, sometimes my grandchildren ask for a specific design and sometimes a texture on a pillow brings up my imagination.
Pinterest is a place where I often look for inspiration. I look at crochet patterns and think what I can design with it or what texture I can imitate with it.
My animal folding blanket patterns are very popular and so I focus on creating more designs like that. Each blanket has a different stitch that imitates the fur or skin texture and pattern.
3. How does your everyday look like?
Being a crochet designer is my full time job. It requires me to wear many hats: crocheter, video editor, writer, social media manager.
I start at 10 in the morning and sometimes I crochet long into the night. But I love what I do and it doesn't feel like work. I feel blessed to be able to do my craft, help people and support my family with it.
I work every day, even in weekends, and if I travel, I always bring my pattern book and WIP bag with me.
4. What is your favorite yarn?
It sounds strange, but I do not have a favorite yarn. I feel each yarn has it's own time and place to be used. Some are better for winter items, some are better for summer one. Special yarns such as furry or loopy yarn have their own use in decorative items.
I use a lot acrylic DK and Aran Yarn (that's light worsted and worsted yarn for you readers in the US) because it washes well and I feel is accessible to more crocheters around the world.
I want my patterns to be easily replicated and so I prefer to use a more complex pattern with a simple yarn that can be bought from anywhere.
5. Do you have any advice for other sellers?
My main advice when it comes to selling and marketing your designs is to know your customers and know them well. Know their likes and dislikes, know their challenges and frustrations when it comes to crochet, and try to help them.
And second, never stop learning. Perfect your craft and find new ways of using old stitches. Don't be afraid to experiment and frog pieces as many times as it takes to get the right result. I sometimes spend weeks on one design doing it and taking it all apart, but in the end it's all worth it.
I am so grateful Ariana took her time and answered my questions.
You can really see that she puts a lot of dedication and knowledge into her patterns. And that she is doing what she loves.
I love interviewing Crochet Designers; they are such an inspiration. They teach us that your dream job does not exist. You must create it.
Pin this interview so that you can crochet from Crafting Happiness Patterns later.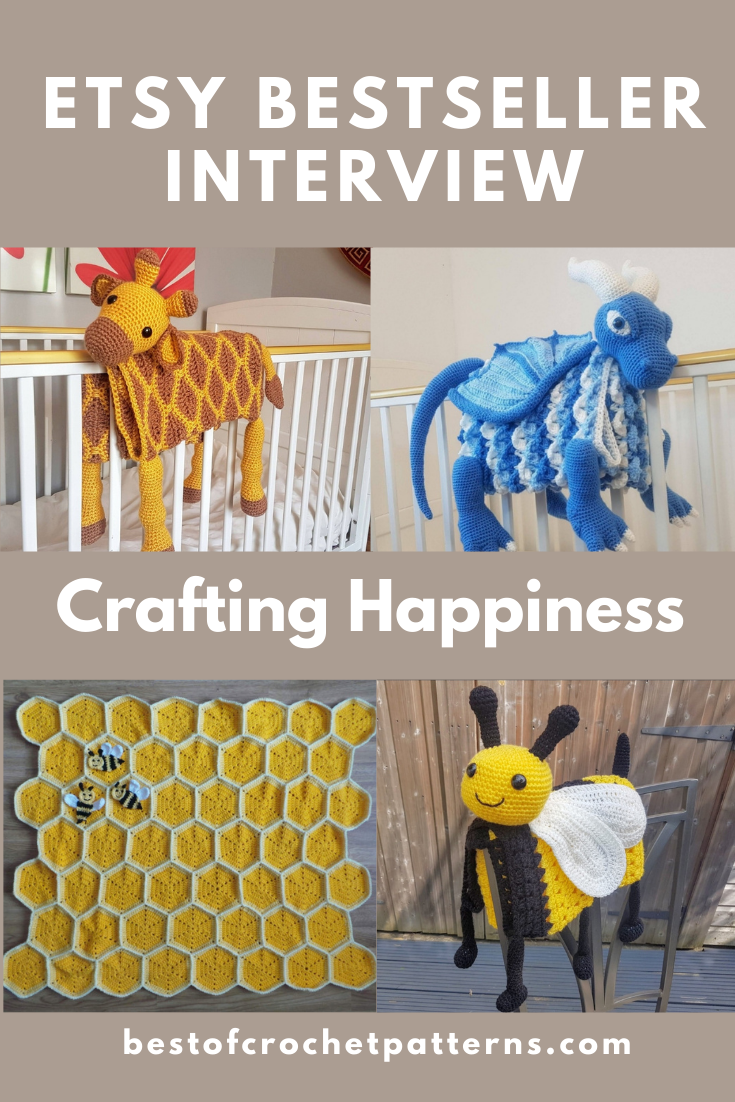 Share it with me; which one will you make first?
Have a beautiful day, and enjoy crocheting!
Katja
Sharing is caring. Please follow and like us: